Wednesday, August 2, 2006
LSS, Inc. Honored by 2005 National Distributor of the Year Award

LSS Inc. is proud to announce that we have received the 2005 National Commercial Distributor of the Year Award from Nilfisk-Advance.
We would like to thank Nilfisk-Advance for the award, recognition and providing innovative products at such a great value.
Our well trained, experienced sales and service staff deserves much of the credit for this achievement. Without their hard work, loyalty and commitment to Nilfisk-Advance, LSS Inc. would not have and received this great award.
Lastly, our greatest appreciation goes to our customers for the partnerships we enjoy...thank you!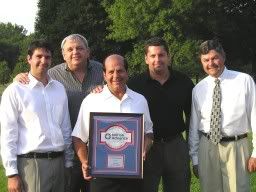 L-R (Joe Ellis, Pete Vitums, Butch Ellis-CEO, David Ellis-President, Randy Atkinson)

If you would like to contact LSS Inc. or see more of our products, please call (800) 632-6333, or by email at staff@lssclean.com
© Copyright 2019 LSS Inc. All Rights Reserved